Moser Inc. specializes in designing and installing Radiant Floor Heat and Gyp-Crete Floor Underlayment. Moser Inc. prides itself with a quality of work and equipment that is unsurpassable.
Radiant Floor Heating: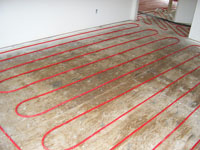 Through job specific heat loss designs, Radiant Heating Systems are custom designed and installed for the specialized needs of our customers and their homes. Moser Inc. provides efficient and comfortable heating systems with the highest quality and reliability. Hydronic systems are installed in Residential homes, Garages, Shops, Offices and Commercial buildings of all sizes.
Snow Melts: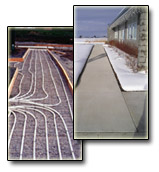 Exterior snow melts create safe passageways that are snow and ice free. Used in many applications such as driveways, sidewalks, and patios for both Residential and Commercial buildings. Snow melts allow safe and easy access to otherwise hazardous locations, all without the labor and cost of snow and ice removal.
Gyp-Crete Floor Underlayment: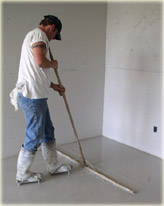 Gyp-Crete creates an optimal thermal mass for Radiant Heat providing the most even Radiant Heat transfer available. Gyp-Crete is installed in: houses with a suspended floor, offices, and apartment buildings. Gyp-Crete provides a light weight, self leveling, soundproofing, and fire rated Gypsum cement that does not shrink and crack.
Gyp-Crete is a sack material that is mixed with sand and water on site in our Gyp-Crete pump. The Gyp-Crete is then pumped and poured into the building (In Radiant applications it is poured directly over the tubes 1 1/2" thick) then leveled and floated to a finish. Gyp-Crete allows the installation of all floor goods including; tile, hardwood, vinyl, and carpet.
Fresh Air Systems:
High-efficiency, whole-house fresh air systems with HEPA filtration technology meets your indoor air quality and fresh air code requirements. Fresh air systems draws clean filtered air into your home without dust, dander, and pollen particles.
High-velocity air conditioning systems:
This type of system removes thirty percent more moisture than a conventional A/C system, while maintaining even temperatures. With its mini-duct system it has the capability to be installed where other air conditioning systems cannot.